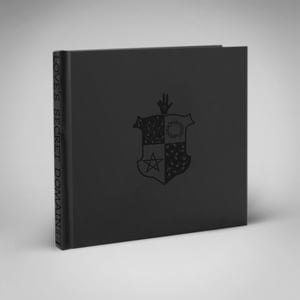 $

160.00
**DELIVERY UPDATE NOV. 28, 2021: DUE TO CONTINUED MANUFACTURING DELAYS AND SUPPLY CHAIN ISSUES, THIS RELEASE HAS BEEN PUSHED BACK 5-7 WEEKS**
**"DARK AGE OF LOVE BONUS 7" IS NO LONGER AVAILABLE**
Ok, well, here it is: The CHAOSTROPHY EDITION. It makes us very, very happy. Consider it the Deluxe edition of the Deluxe edition. Simply put, it's the 2LP Deluxe edition coupled with the newly remastered Windowpane & The Snow 12"s (by Josh Bonati of course), a reprint of an original Wax Trax! press photo, a sheet of COIL blotter paper (DYO!), a full color poster of the LSD painting, a CD copy of the album and the extended booklet, all housed in a lavish hardbound book with detailed photographs of the iconic cover painting and other previously unpublished imagery inside.
All pre-orders of the CHAOSTROPHY EDITION will include a one sided 7" of "Dark Age Of Love" from The LSD sessions. This track has never been pressed on vinyl, and we're happy to offer it here for the first time. After the official June 20 release, this 7" will be deleted and no longer be available.
This CHAOSTROPHY EDITION will be pressed on black vinyl in an extremely limited edition of 1,000 copies and definitely will not be available again.
Tracks include:
Disco Hospital (2:18)
Teenage Lightning 1 (1:50)
Things Happen (4:22)
The Snow (6:41)
Dark River (6:30)
Where Even The Darkness Is Something To See (3:06)
Teenage Lightning 2 (5:09)
Windowpane (6:12)
Further Back And Faster (7:56)
Titan Arch (5:02)
Chaostrophy (5:37)
Lorca Not Orca (2:04)
Love's Secret Domain (3:56)
Windowpane (Minimal Mix) (5:38)
Windowpane (5:48)
Windowpane (Astral Paddington Mix) (5:37)
The Snow (Driftmix) (2:35)
The Snow (Answers Come In Dreams I) (5:47)
The Snow (Out In The Cold) (7:43)
The Snow (As Pure As?) (6:33)
The Snow (Answers Come In Dreams II) (5:57)
The Snow (6:48)
**INTERNATIONAL CUSTOMERS: OUR SHIPPING FEES CAN GET TOTALLY OUT OF WHACK ON MULTIPLE ITEM ORDERS BASED ON A GLITCH IN OUR POSTAGE SYSTEM. PLEASE CONTACT US AFTER YOUR ORDER IS PLACED IF YOU FEEL THE SHIPPING IS INSANE. IN MOST CASES WE WILL REVISE & REFUND IMMEDIATELY. (WE DO NOT MAKE MONEY OFF OF SHIPPING)**