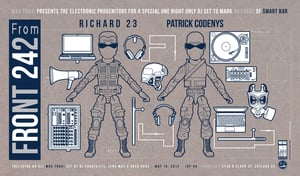 $

35.00
Limited poster advertising the special US 2013 appearance of Front 242 electronic pioneers, Richard 23 & Patrick Codenys. This 3 color poster is designed by supercorn and measures about 14"x 23".
This print is limited to a total of 25 copies for this run only! get 'em while you can.
Note: This is the Blue/White/Silver ink version.