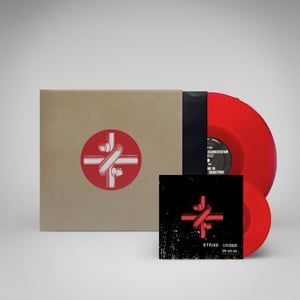 $

30.00
**THIS IS A PRE-ORDER** Actual vinyl ships on or before April 18. 2020
What we have here is the new pressing of early Chicago punk artist STRIKE UNDER and their EP, IMMEDIATE ACTION. with a special PRE-ORDER ONLY 7".
This red vinyl edition is limited/numbered to 400 and is screen-printed with an alternative cover.
7" includes 2 previously unreleased songs from STRIKE UNDER's first show in 1980.
IMPORTANT NOTE: This is a PRE-ORDER OFFER ONLY and will not be available online after April 18, 2020.
As some of you may know, the STRIKE UNDER song "Closing In" was used in our film INDUSTRIAL ACCIDENT but for fans interested in a deeper look at the artists who helped shape the label's origins, this EP marked the first legitimate release by WAX TRAX! RECORDS and was responsible for officially launching the independent label. This important piece in the story of WAX TRAX! has been out of print since the early 80s and we're very happy to offer it once again under the WAX TRAX! imprint.
WAX TRAX! has been built on punk, trash, art and dance from the beginning. As the label celebrates its 40th Anniversary. IMMEDIATE ACTION is the perfect symbol as we begin to recognize the 1980-2020 timeline.
STRIKE UNDER consisted of Chris Bjorklund, Steve Bjorklund, Pierre Kezdy and Bob Furem.
and were a seminal fixture in the early Chicago punk & hardcore scene.
Members went on to play in Breaking Circus, The Effigies, Naked Raygun & Pegboy.
12" EP
A1 Sunday Night Disorientation
A2 Context
B1 Closing In
B2 Elephant's Graveyard
B3 Immediate Action
PRE_ORDER 7"
A1 One Eye
A2 Damaged Goods (Gang Of Four)